The Influence and Use of Simulation in Transport Industries
Delft, The Netherlands, November 18th 2016
Symposium Aims
The Dutch Benelux Simulation Society (DBSS), founded in July 1986, is one of the oldest Simulation Societies of Europe and one of the founders of EUROSIM. Although the Society has been inactive for some time, its 30th Anniversary was celebrated as a new start with a Symposium on The Influence and Use of Simulation in Transport Industries. The very interesting talks by six keynote speakers from academy and industry aimed to show the utility, necessity and applications of simulation in transport industries.
Presentations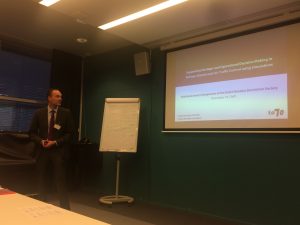 Student Poster Competition
The Student Poster Competition at the 30th Anniversary DBSS Symposium was won by Etienne Felix Hunt, who recently finished his B.Sc. in Aeronautical Engineering at the Aviation Academy, HvA, Amsterdam. Etienne presented a poster on the prediction of the final approach speed of civil aircraft.
We are very glad to have you as a new DBSS member!
More photos of the poster competition HERE …
Some more photos of the Symposium:
ACADEMIC SPONSORS